[tintuc]
Dalat is the capital of Lam Dong Province in Vietnam. The city is located 1,500m above sea level on the Langbian Plateau in the southern parts of the Central Highlands region. In Vietnam, Da Lat is a popular tourist destination.
Da Lat's specific sights are pine wood with twisting roads and tree marigold blossom in the winter. The city's temperate weather stands in contrast to Vietnam's otherwise tropical climate. Mist covering the valleys almost year-round leads to its name "City of Eternal Spring".
Da Lat is also known as an area for scientific research in the fields of biotechnology and nuclear physics.
With its year-round cool weather, Da Lat supplies temperate agriculture products for all over Vietnam, for example: cabbage and cauliflower. Its flower industry produces two typical flowers: hydrangea and golden everlasting. The confectionery industry offers a wide range of mut, a kind of fruit preserve that closely resembles varenie, made from strawberry, mulberry, sweet potato, and/or rose.
Đà Lạt is a source area for pyroxene from the Australasian strewnfield. Đà Lạt is divided into 12 wards which are numbered 1 to 12, and 4 communes: Ta Nung, Xuan Truong, Xuan Tho and Tram Hanh.
Da Lat features a subtropical highland climate under the Köppen climate classification and is mostly mild year round. Da Lat's year-round temperate weather, standing in contrast to central & southern Vietnam's otherwise-tropical climate, has led it to be nicknamed the "City of eternal spring". The average temperature is 14 °C (57 °F) - 23 °C (73 °F). The highest temperature ever in Da Lat was 31.5 °C (88.7 °F), and the lowest was −0.6 °C (30.9 °F). Mist covers the adjoining valleys almost year-round. Its temperate climate also makes it ideal for agriculture. Indeed, Da Lat is renowned for its orchids, roses, vegetables, and fruits. There are nascent wine-making and flower-growing industries in the region.
There are two separate seasons in Da Lat. The rainy season lasts from May to October, and the dry season is from November to April. The average annual precipitation is 1,770mm.

You could do the tour with Dalat Motorbike Tours to discovery Dalat.
Contact:
http://www.dalatmotorbiketour.com
cell: (+84) 01674 158 258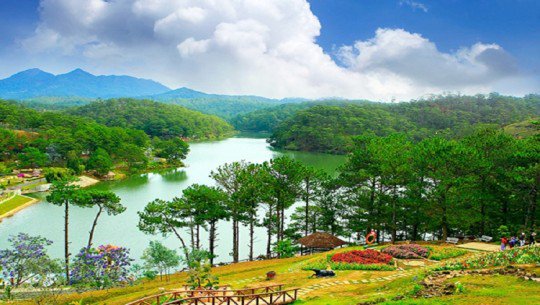 [/tintuc]